Description
FIND MORE COINS, JEWELRY, RELICS & GOLD!
Ideal for coins, jewelry, relics, and small metals that are difficult to detect; Velox has been developed for tough ground conditions. Velox offers an exceptional detector to users by combining its depth advantage, speed and ease of use with its newly designed search coil and special settings that enable convenient use in high mineralization.
You will enjoy detecting targets at depths that other detectors cannot reach as well as easily searching in high mineralized ground (extremely salty soil, wet beach sand, wet plowed land or highly magnetic ground conditions) which are problematic for most detectors.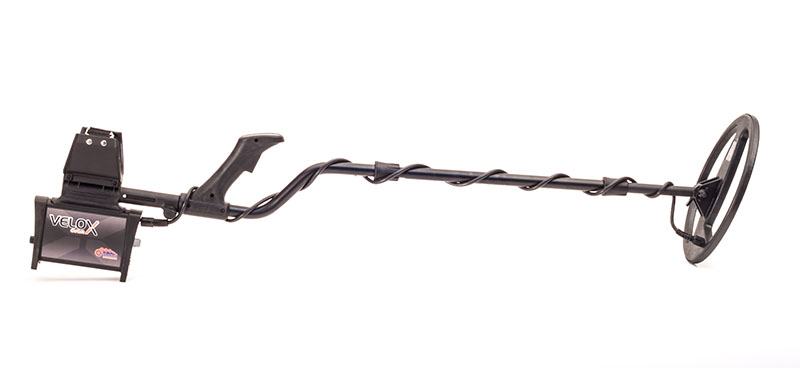 IRON SWITCH AND IRON DISCRIMINATION
Iron switch enables you to eliminate ferrous metals so that when you do not want to detect these type of metals you can search by turning the iron switch off. It also provides ease of use in heavy trash areas.
On the other hand, especially in areas of high iron mineralization and beach sand, iron discrimination enables the ground effect to be reflected as iron and to be eliminated by turning the iron switch off. In addition, it enables metals containing iron to produce a low tone and to be discriminated more easily.
METAL DISCRIMINATION
Velox has very stable and easy to understand metal discrimination. It produces a high warning tone for non-ferrous and a low one for ferrous metals.
SIGNAL AUDIO BOOST
Boosts the sound of weak signals received from small or deep metals making it easier for you to detect those uncertain targets.
VELOX ONE TECHNICAL SPECIFICATIONS
Operating Principle Induction Balance
Operating Frequency 17.5 KHz
Metal Identification Audio warning
Audio Discrimination 3 tones
Sensitivity Setting Manual
Ground Balance Manual
Search Coil 28cm (11") waterproof Double-D
Battery 8 AA Alkaline Batteries
Headphone Output 1/4" mono
Length 125-145cm (49" - 57") extendable
Weight 2kg (4.4lbs) including the search coil
Warranty 1 years